KD4E

Dentron Clipperton L 160M - 10m Amplifier Restoration & Modification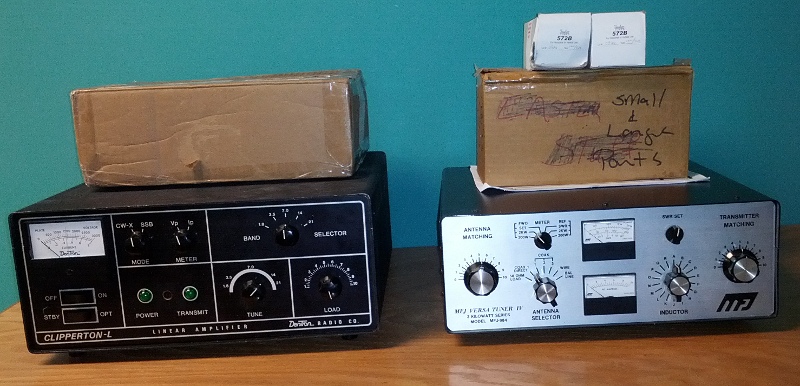 Amplifier & Tuner as received
Click Here to Enlarge Photo
As designed these are the design specs for the Dentron Clipperton L:
Coverage 160-15M
The RF line-up is four 572b
Drive Requirement: 65-150W for Full output
Modes: CW/Digital/SSB
RF Power Input: 1KW CW, 600W Digital, 2KW PEP
Power Requirements: 120vac but 240vac recommended
Dimensions (WxHxD): 14.6" x 6.7" x 15.75"
Weight: 75lbs
Manufactured in USA: 1970s-1980s
The goal of this project is to first restore the amp after a failed conversion
to 6m followed by an incomplete conversion to 10m
Thankfully most of the original parts were retained.
The PS caps were replaced at some unknown time:
Sprague 100uF 500vdc also marked "D74549" and "35-09".
Diodes and resistors will also be checked closely.
The power transformer had been changed to a center-tapped type following
the failure of the original transformer - so that circuit will have to be
traced and documented.
Modifications
Additional capacitance will be added to improve efficiency on 80m and 160m
RF-rated disc capacitors may be used, as in Alpha and Ameritron amplifiers,
rather than larger and more costly doorknob caps (both are ceramic).
Following the recent purchase of five 500pf 7.5KV dooknobs I should have
enough to enhance the amp and the matching MFJ-984 (MT-3000a clone) tuner.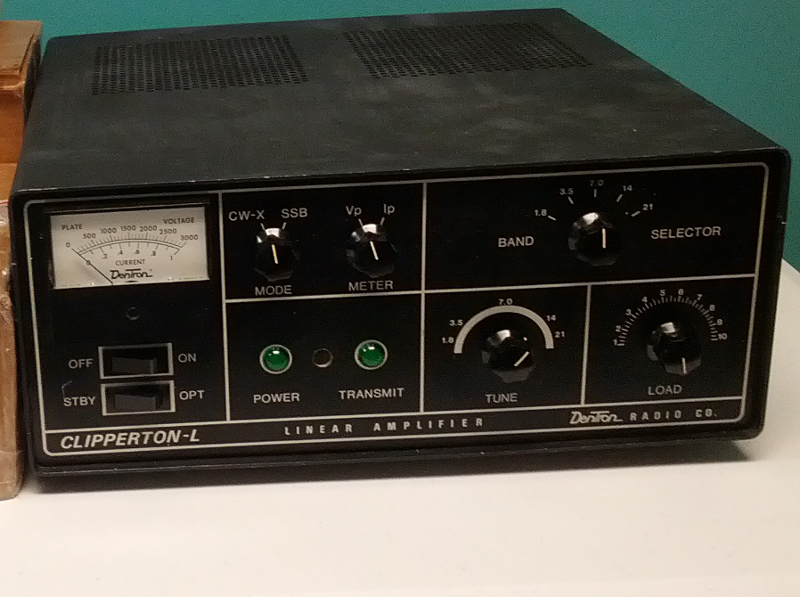 Amplifier as received
Click Here to Enlarge Photo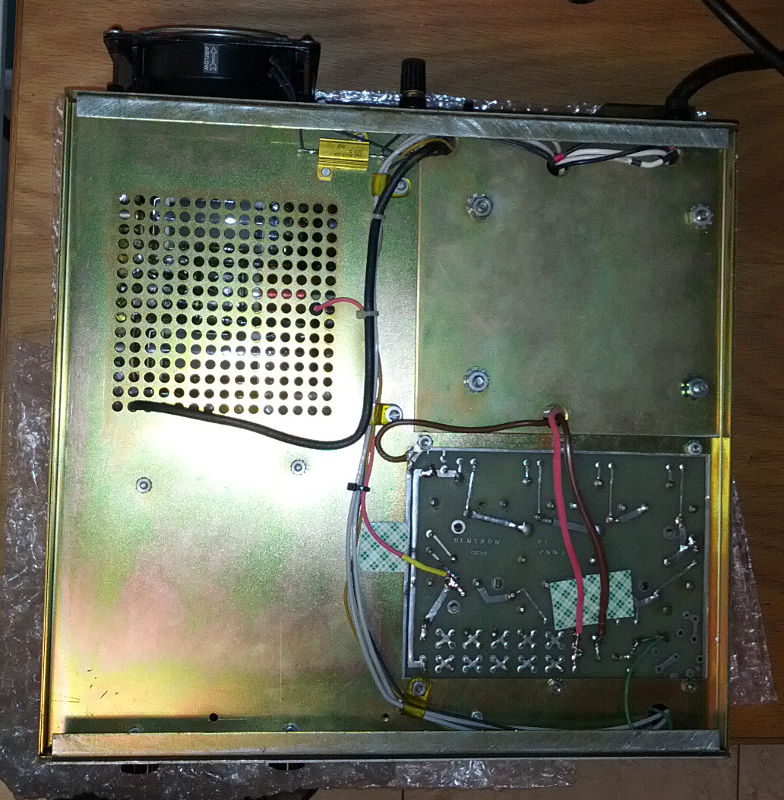 Amplifier bottom (case removed)
Click Here to Enlarge Photo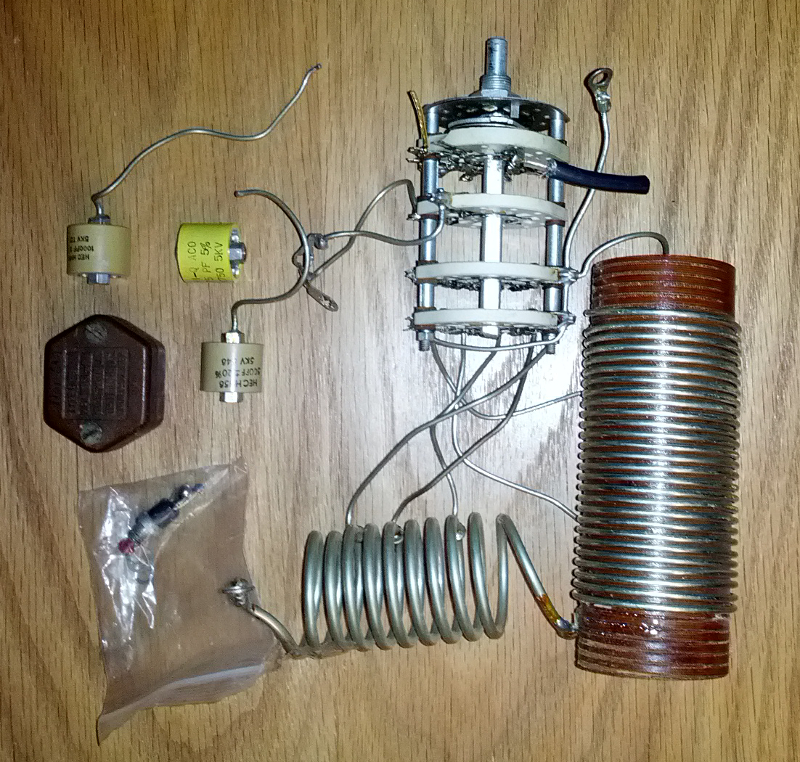 Amplifier bandswitch, coils, doorknobs, and bathtub caps as received
Click Here to Enlarge Photo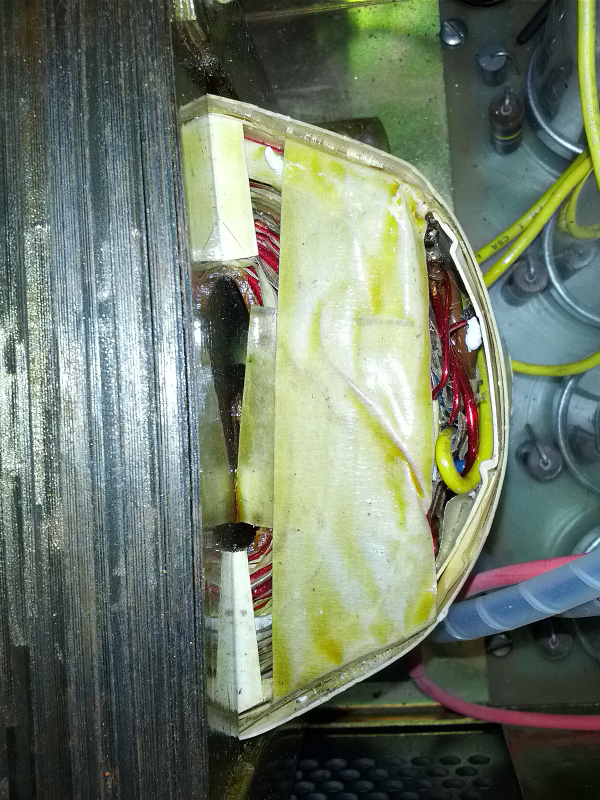 Amplifier replacement center-tapped power transformer as received
Click Here to Enlarge Photo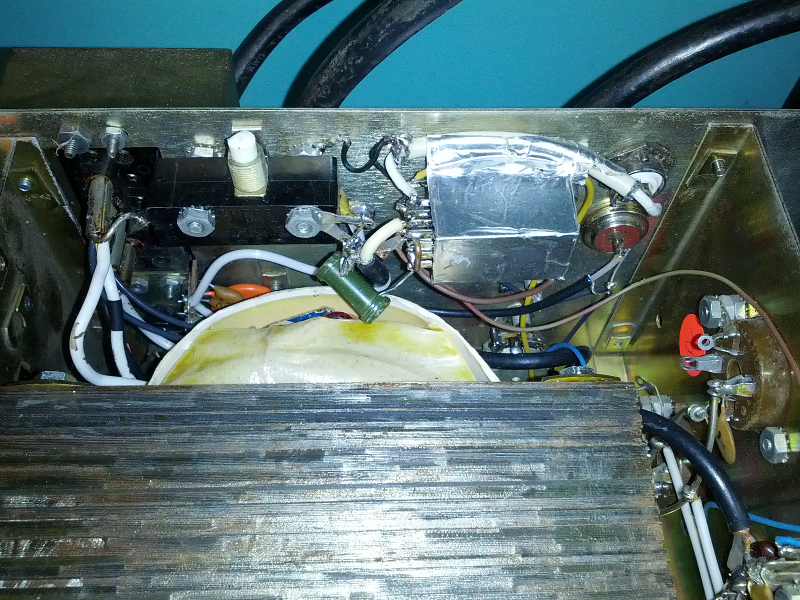 Amplifier replacement center-tapped power transformer as received
Click Here to Enlarge Photo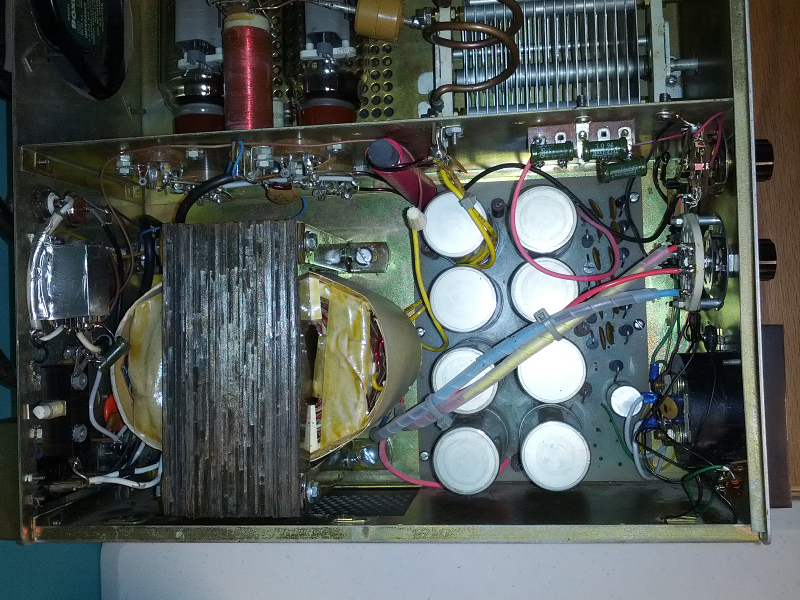 Amplifier power supply section received
Click Here to Enlarge Photo

Amplifier rear view of meter and switches as received
Click Here to Enlarge Photo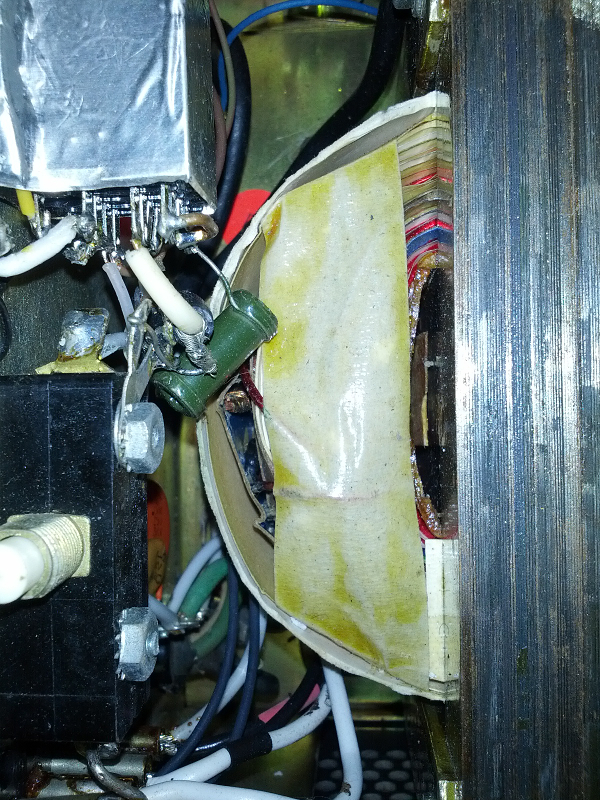 Amplifier replacement relay as received
Click Here to Enlarge Photo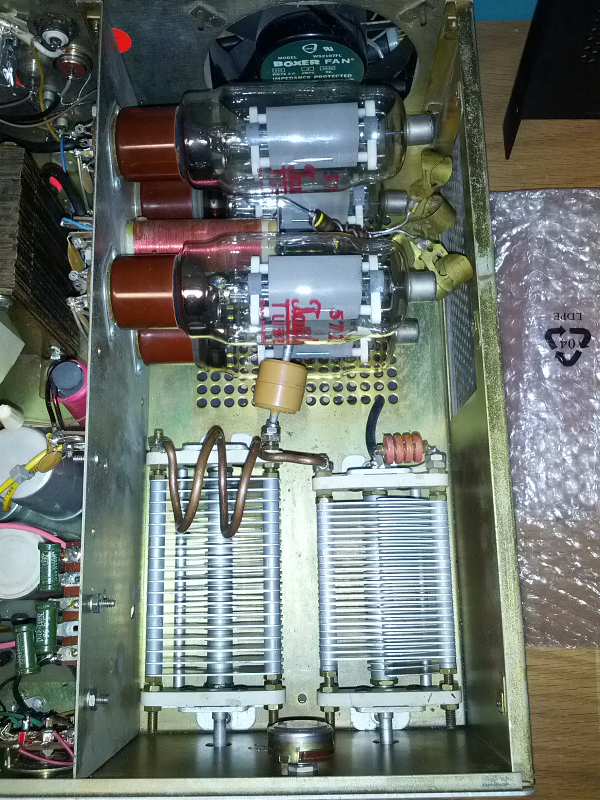 Amplifier RF section as received
Click Here to Enlarge Photo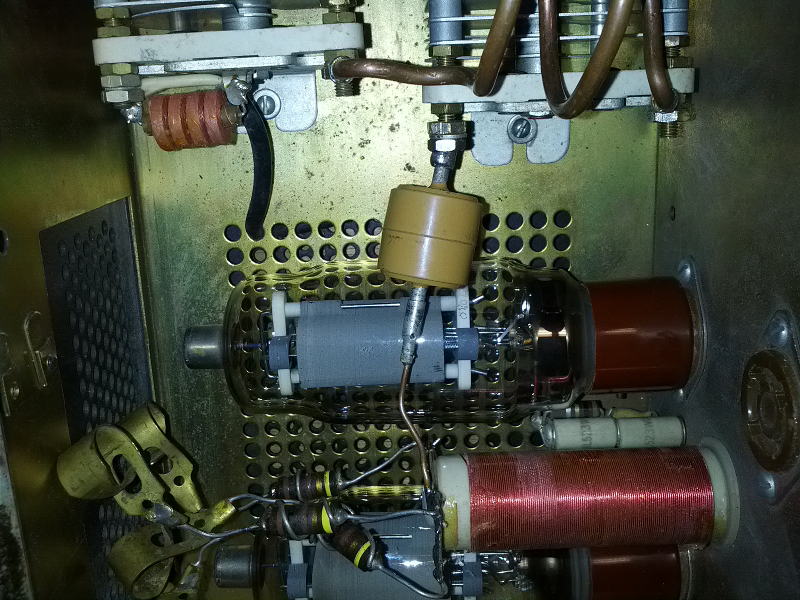 Amplifier RF section as received
Click Here to Enlarge Photo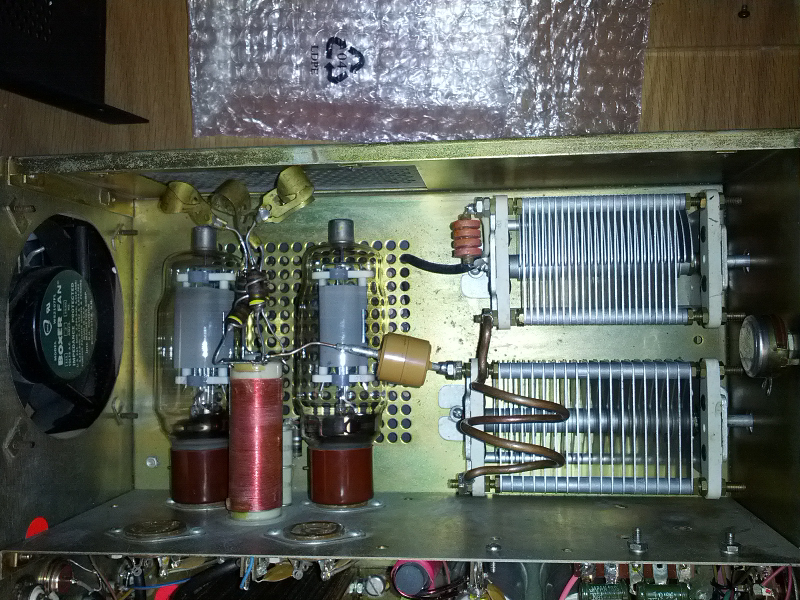 Amplifier RF section as received
Click Here to Enlarge Photo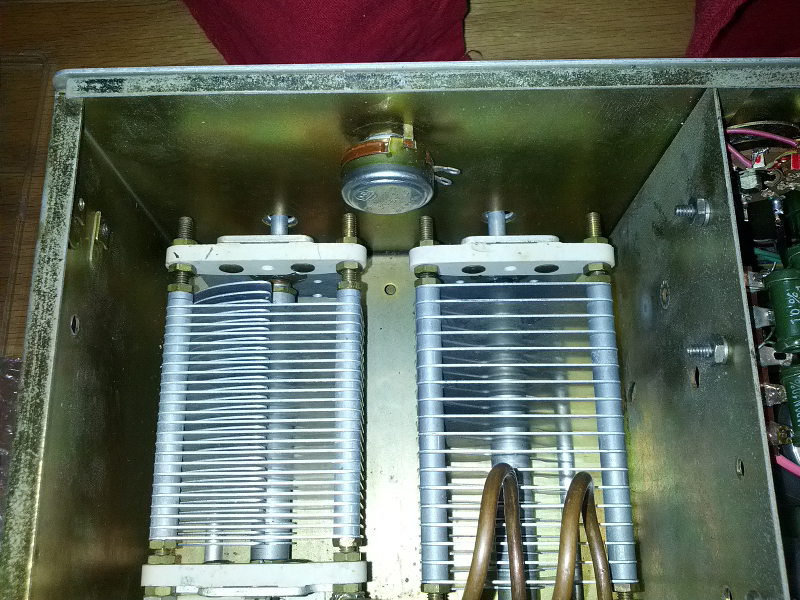 Amplifier RF section air variables as received
Click Here to Enlarge Photo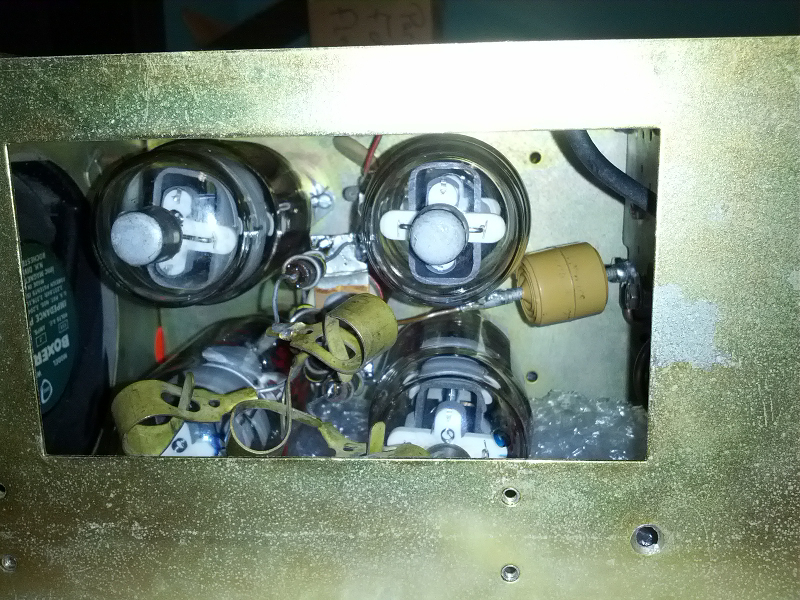 Amplifier side view of plate cap view as received
Click Here to Enlarge Photo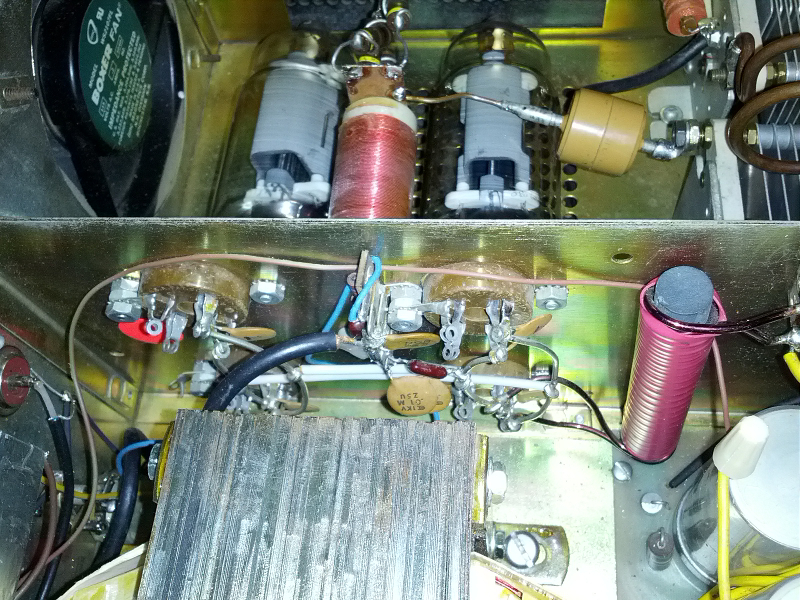 Amplifier bottom of tube sockets as received
Click Here to Enlarge Photo

Please Click here to Return to Previous Page
Free JavaScript Date code at top of page provided
by The JavaScript Source