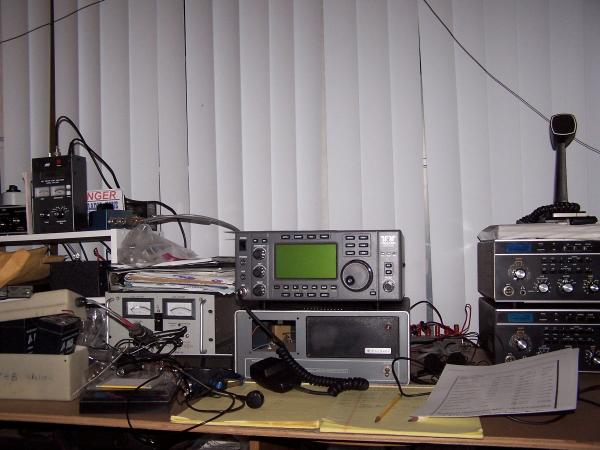 KD4E
Project Page, Resources, and Schematics

CURRENT PROJECTS
Dentron Clipperton L Amplifier
Elmac AF-67 160-10M Transmitter
Heathkit HP-23-A Power Supply
RCA WR-67A Test Oscillator

PAST PROJECTS
Homebrew 6M Delta Loop
Yaesu FT-957D Portable Station

Lots of Low Voltage Tube Information
"Pencil Tube VFO"
"American Miniature Tubes for Radio Receiver"

3A5's, Space Charge Tubes, Regens, etc.
12V Space Charge Tubes
12V Space Charge Tube Receiver
12V Space Charge Tube Regen
12V Space Charge Tube Mod for an AA5 Receiver (scroll down)
12V Space Charge Tube Receivers with Transistor Audio Outputs
12V Space Charge Tube Discussion
Battery Tube Discussion
Pencil Tube Pictures & Data
Low Voltage Tube Audio Pre-Amp Kits
24VDC Tube Amp
Low Voltage Tube Kits
Military Gear Discussion - Subminiature & Pencil Tubes
Dual - Sub-Miniature - 6088 Franklin VFO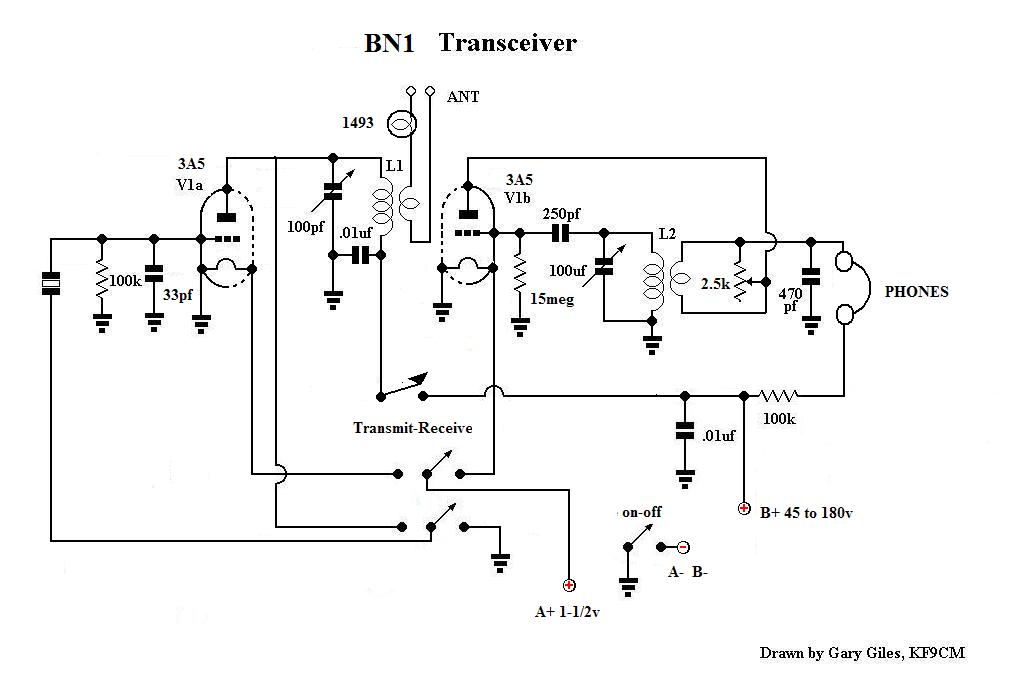 3a5 Single-Tube Tx/RxCenter>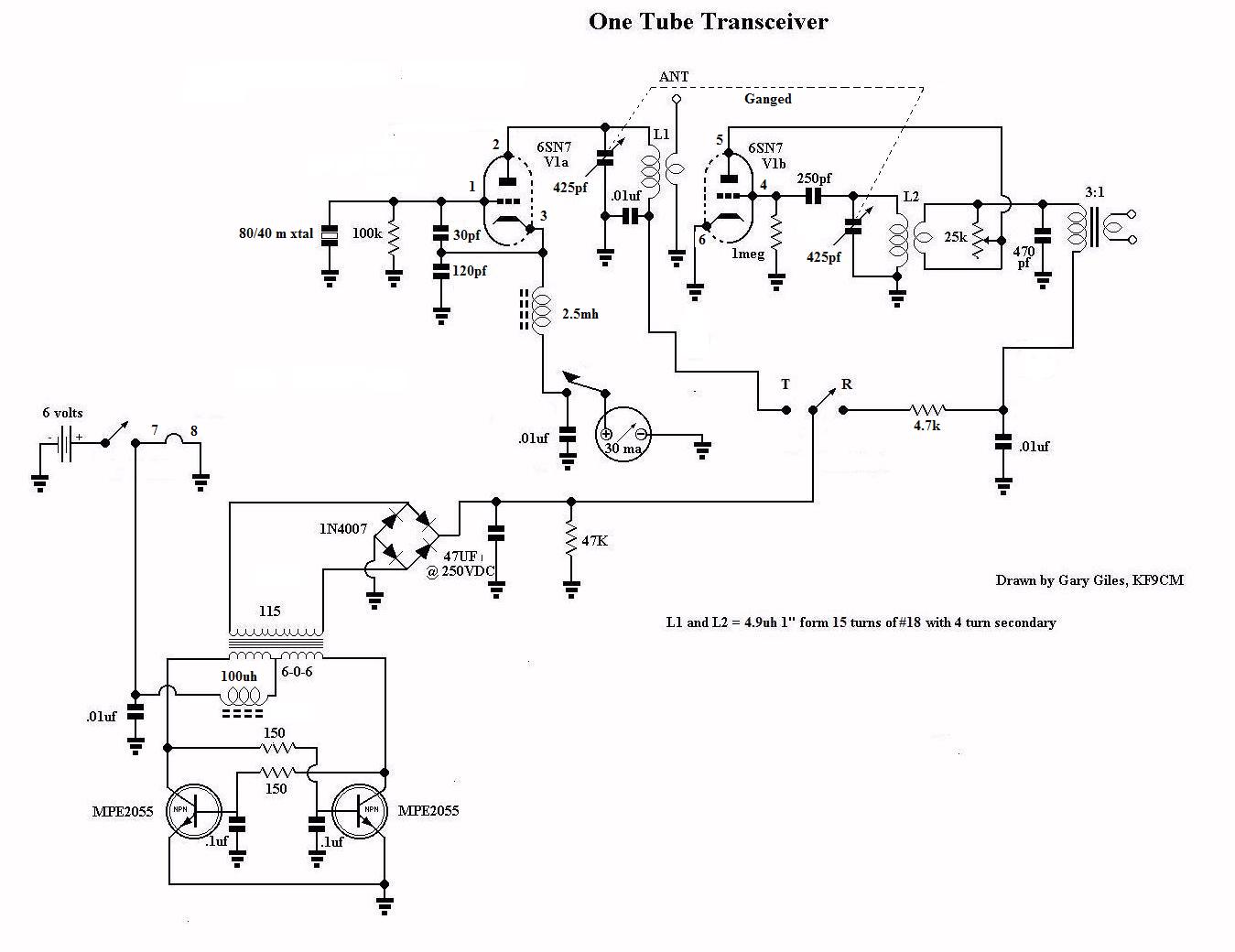 KF9CM also shows a 6sn7 Single-Tube Tx/Rx
Click here for a discussion of usages of 3A5's
Home page for Two-tube 3A5 CW Transceiver
Four-tube 3A5 & 3D6 CW Transceiver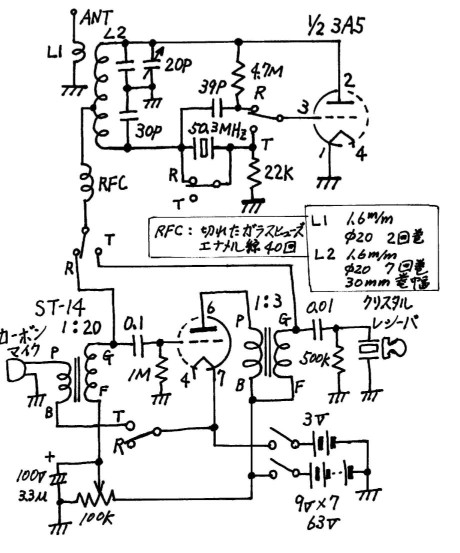 Minimalist 3A5 6M AM Transceiver (Automatic translation via next link, below.)
Click Here for the Home Page & Discussion of the 3A5 Transceiver circuit above.
After all of that I THEN stumbled on this interesting circuit.
(Click to View Link, then return. My discussion & selected text from the article follows below.)
I was interested to observe that his modulation design allows for carrier suppressed DSB or AM.
I am thinking that I may borrow that design for my mini-tube transmitter so it may do double-duty
(actually triple AM/CW/DSB). [Webmaster]
"The output of the DBM contains only the product (of audio and carrier) frequencies.
The DBM suppresses both the input signals and produces double side band suppressed carrier
(DSBSC) at its output. However, since the diodes used in the balanced modulator are not fully
matched, the output of the DBM does contain some residual carrier. This is known as carrier
leakage. By adjusting the 100 ohm preset VR2 and trimmer C7 you can null the carrier leakage.
"To receive DSB signals you need a beat frequency oscillator to reinsert the missing carrier.
If you don't have a beat frequency oscillator, or want to transmit only AM signal, adjust
preset VR2 to leak some carrier so that you can receive the signals on any ordinary radio
receiver. In AM mode 100% modulation can be attained by adjusting preset VR1 and VR2."

I also happened upon a simple conversion for the venerable military surplus BC-696
transmitter from AM to DSB. It is a readily reversible conversion. (see below)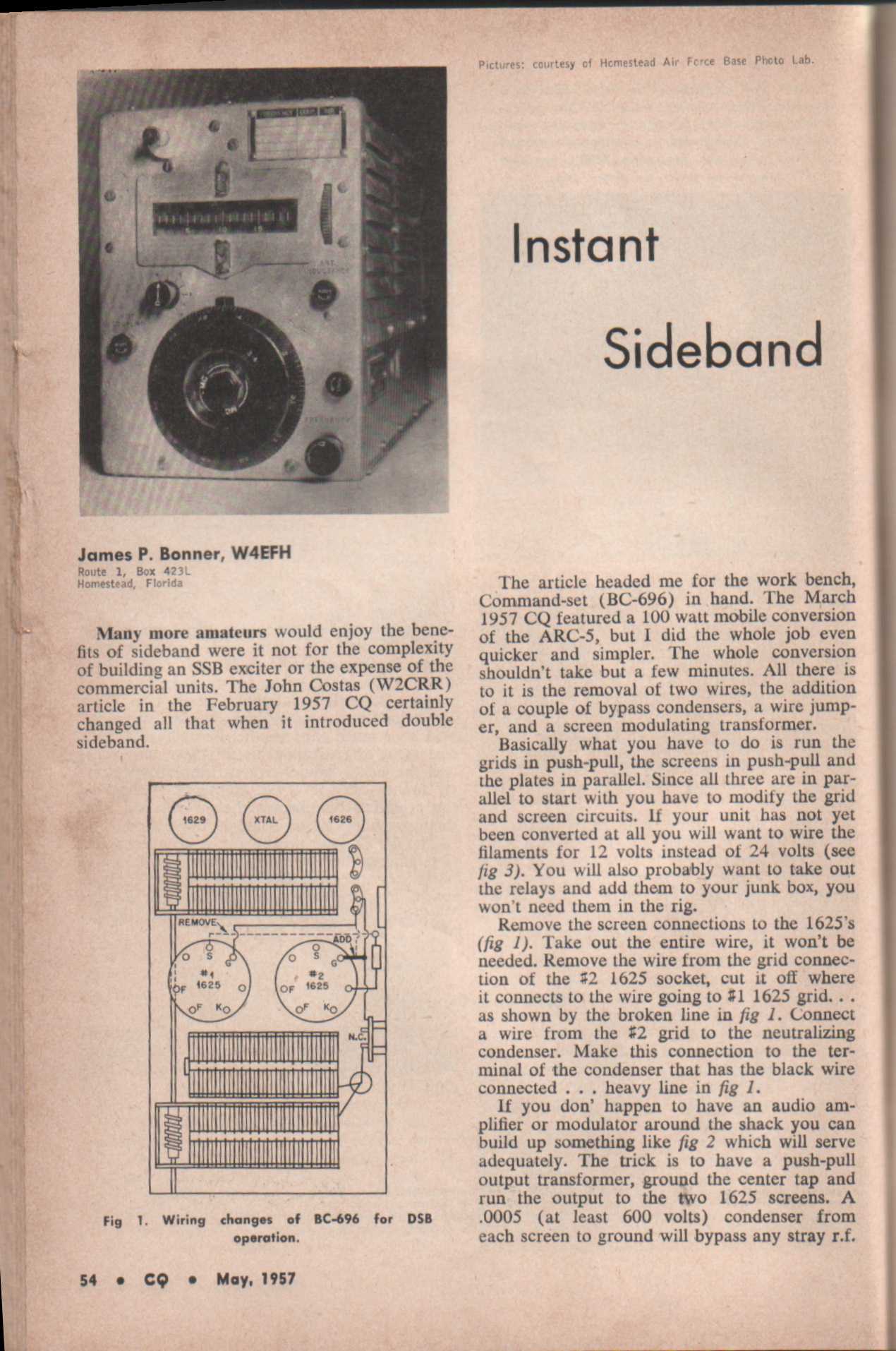 DSB Conversion of BC-696 Transmitter. Page 1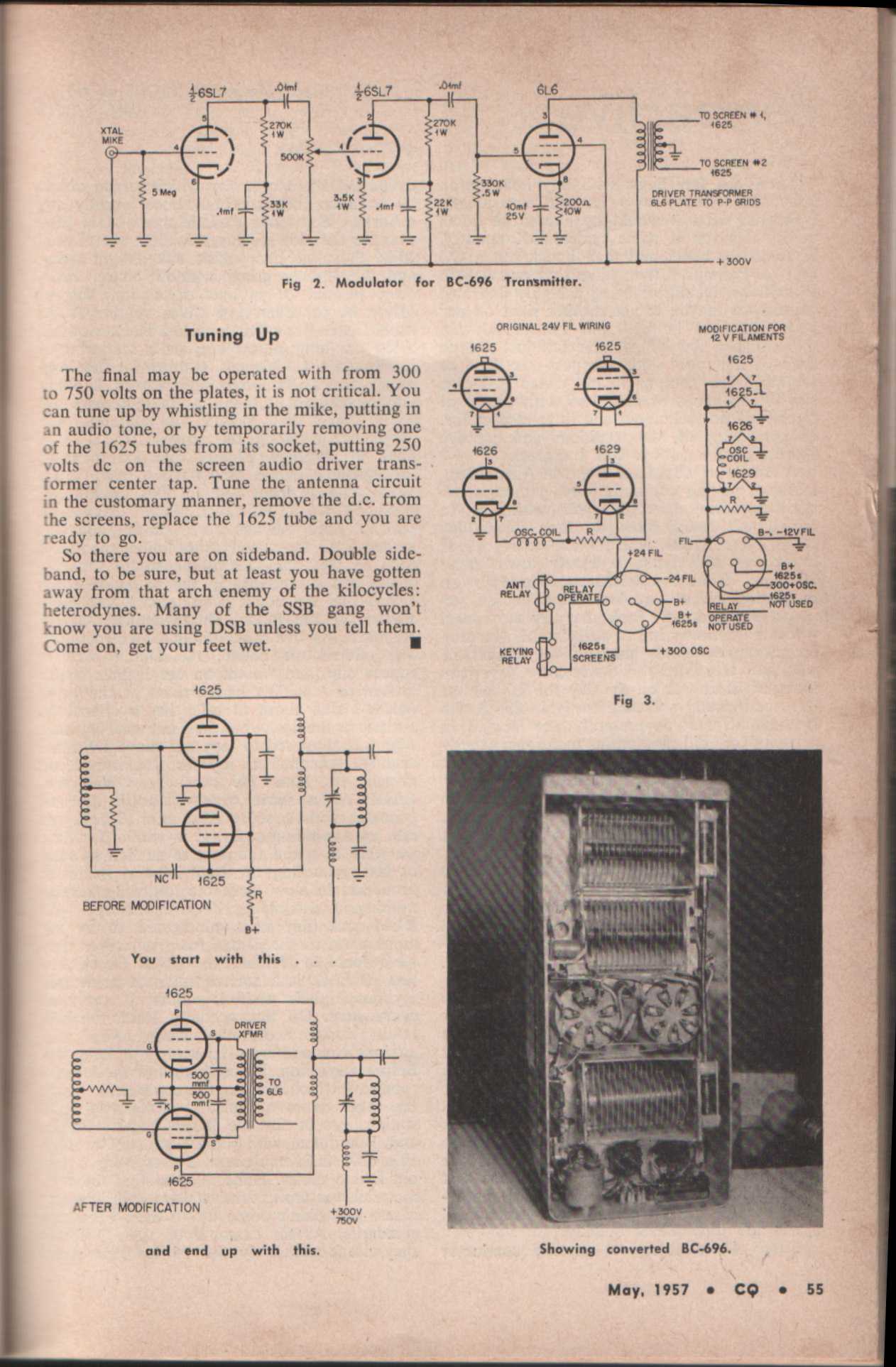 DSB Conversion of BC-696 Transmitter. Page 2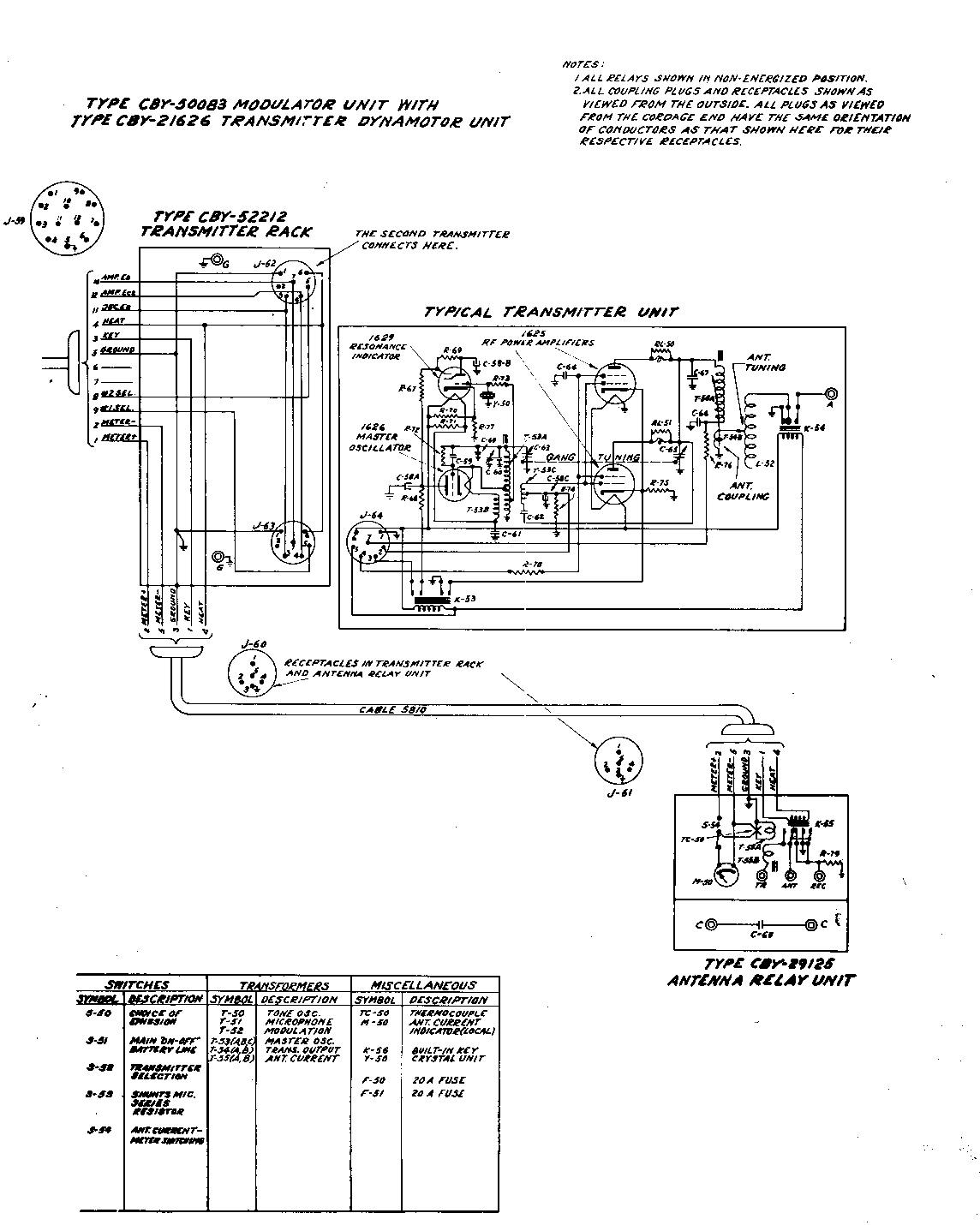 BC-696 Transmitter Schematic

SOME HOPEFULLY USEFUL DATA
AZDEN PCS-3000 12-PIN MIC PINOUT

1 Green (K2)

2 Red (Ground)

3 Blue (AF Vol.)

4 Yellow (K1)

5 Purple (K8)

6 Grey (Key Lock)

7 Black (R0)

8 White (13.8V)

9 Brown (PTT)

10 Orange (R2)

11 Shield (Mic Ground)

12 Pink (Mic Out)

R0-K1 = 5K Up

R0-K2 = 5K Down

R2-K8 = Call M1

R2-K1 = MHz Up

R2-K2 = Band Scan

R0-K8 = M Write

Please Click here to Return to Favorite Rigs and Project Page
Please Click here to Return to KD4E Home Page
Free JavaScript Date code at top of page provided
by The JavaScript Source